Voted ITCH.IO'S FAVORITE!
---
THANK YOU EVERYONE FOR AN AMAZING SPOOKTOBER AND...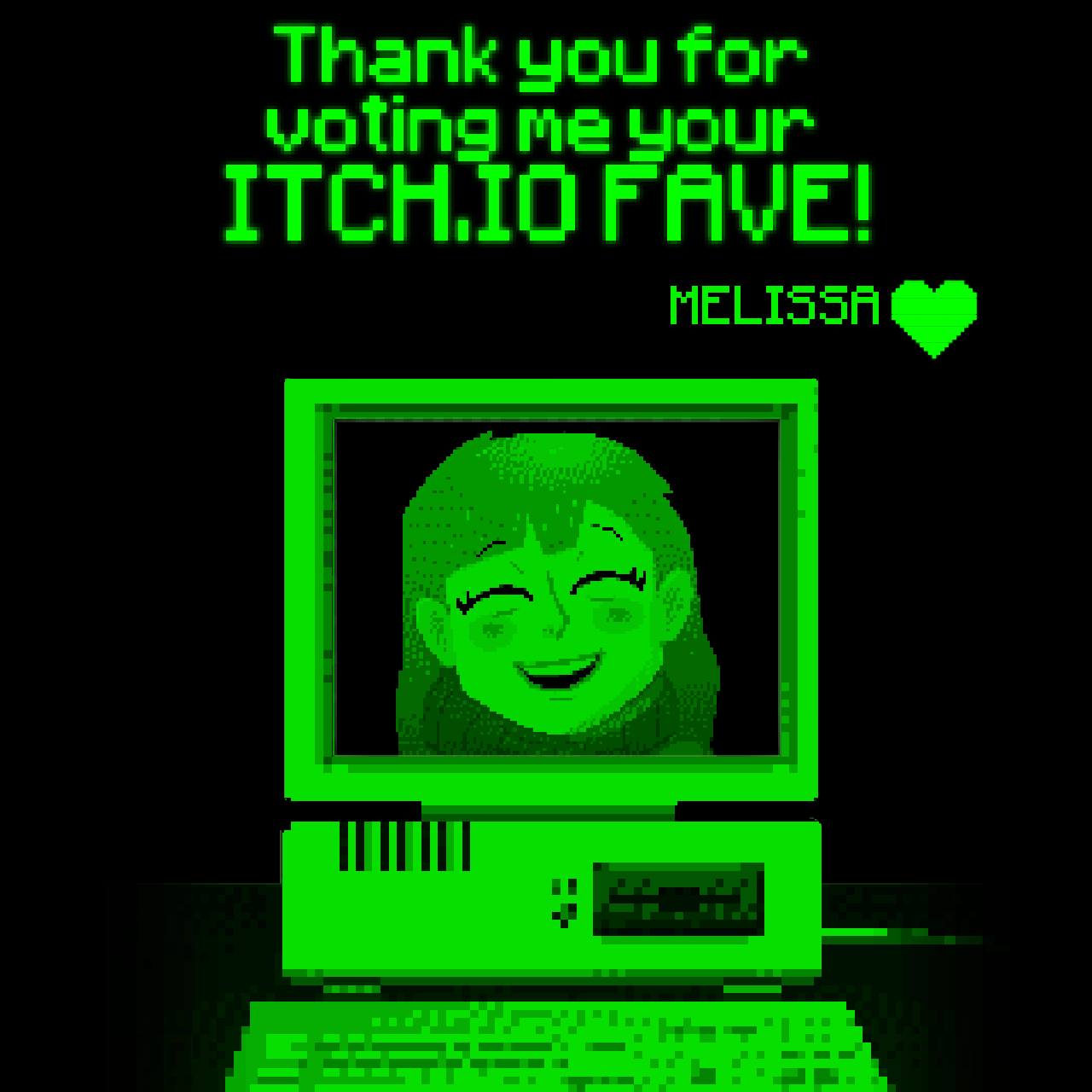 ...VOTING "MELISSA♥" as YOUR SPOOKTOBER "ITCH.IO FAVORITE!"
I'm also grateful for the Honorable Mention in Judges' Favorite and Runner-up to "Best Monster"... which is an AWARD that I advise never to tell Melissa she was close to winning. Please. For everyone's sake.
It's been a year since I started doing some serious experimenting with game design & visual novels.
MELISSA♥ marks the end ofa full year of exploration, starting in Spooktober 2021 with the horror game "Bad Faith".
I'm not a seasoned veteran in gamedev, and I still face some challenges in working through the medium such as: in writing for Visual Novels, producing art efficiently for the medium AND working in the game engine environment of Unity.
I feel like I have a bit to go before I have a good overall workflow for these projects, which is why I am ever so surprised that so many people voted, commented, and played my little game!
Including people who I look up to who have spoken to me either through twitter, the game page, or discord telling me they enjoyed my game. It's an incredible, exciting, and emotional experience.
Thank you! Thank you! Thank You!
I'd also like to thank all the hundreds of comments, "Let's Plays" and "Twitch Streams" that played through, reacted and commentated on my work. I've watched as many as I could with my limited time, and loved all of them.
It's a weird feeling to see so many thumbnails on youtube with my art on screen. Including some of youtubers that even an out-of-touch fogey like ME would know!
The experience has been overwhelming.
Again, thank you! Thank you! Thank you!
I'm still a learner, I hope to continue making more of these in the near future!
Speaking of which...
I know many of you wanted me to expand on this small game. I will be producing a sequel addressing the other potential dates that were mentioned in MELISSA♥.
Stay tuned for MORRIS♥, coming soon!